esquire
How to Get (or Stay) Fit at Home Without Overspending Your Budget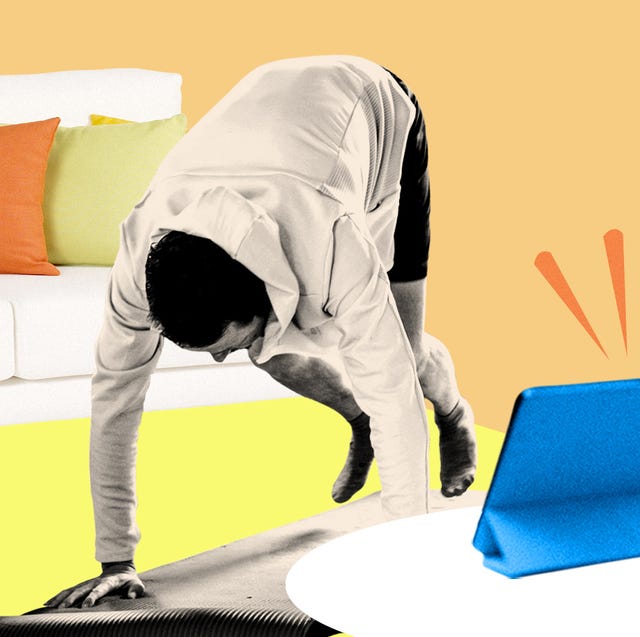 ELAINE CHUNGGETTY IMAGES
The last month has proved one thing to me: Gyms are not merely fun adult play parks. Without gyms, I have so much untapped and unwound energy that I've been running and sliding around my apartment like an uncool, Risky Business Tom Cruise. To cope, I've decided to instead spend this time finding ways to exude that extra energy in some kind of fitness-friendly way.
My problem, and probably your problem too, with self-driven workouts has always been the getting up and doing it. And then I end up hurting myself in ridiculous ways, because it turns out YouTube videos will not spot me. I have injured myself trying to do home workouts in scenarios that look like they were designed by Kevin McCallister. But these current social distancing parameters have forced me to properly learn how to use the gym items I own, and better pinpoint ways to be fit without the help of massive machines. That's not to mention that working out at home has done wonders for keeping me energized and my anxiety levels down, just like the gym used to.
Here are some of the best products, services, and subscriptions I've found for getting (or staying) healthy at home, covering different interests, spacial needs, and price points. And don't worry, I have faith that you won't almost kill yourself trying them.Bodyweight + Streaming Classes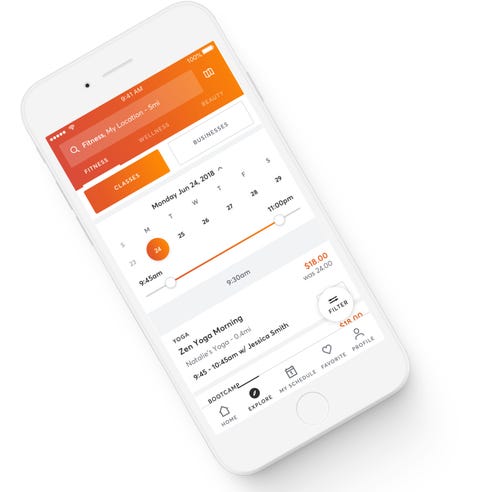 Mindbody App
Free, mindbody.io
DOWNLOAD
Your bodyweight is free. Push-ups, sit-ups, burpees—all of them you can do with just you, and that's pretty cool. The tricky thing is staying on top of it, which is why you should find some video classes to stream, setting a time and giving you an instructor to keep you on track. A ton of gyms and studios are doing Zoom training sessions, and that allows you to support your local business while getting a workout in. I use the Mindbody app to connect me to my local gyms that have Zoom or streaming classes, for both paid sessions and free sessions. Some of us need an escape but are worried about finding the means of doing it. Well, there's a lot more out there for free, from yoga classes to YouTube videos that'll teach you how to train with things in your home. Do some digging.Dumbbells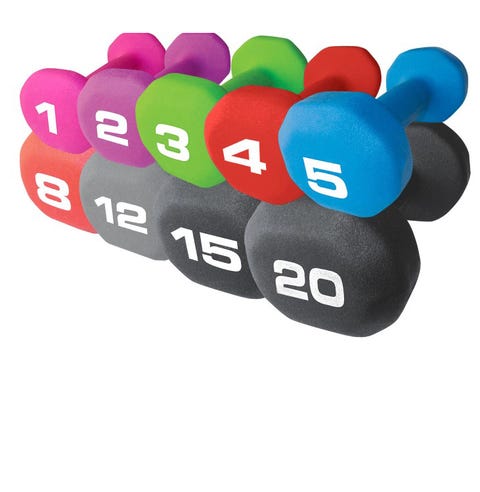 Fitness Gear Neoprene Dumbbells
From $2, dickssportinggoods.com
BUY
Such an easy solution. Chances are you have a pair of dumbbells lying around somewhere, and if not, plenty of places are still shipping these bad boys for cheap. Toss on some music, get pumped, and do bicep curls or overhead lifts or any of the thousands of exercises you can do with dumbbells. I love these things because you literally pick them up and lift them, and if you use the right weight they are heavy enough to be a workout but light enough that you're not going to hurt yourself overdoing it.Kettlebells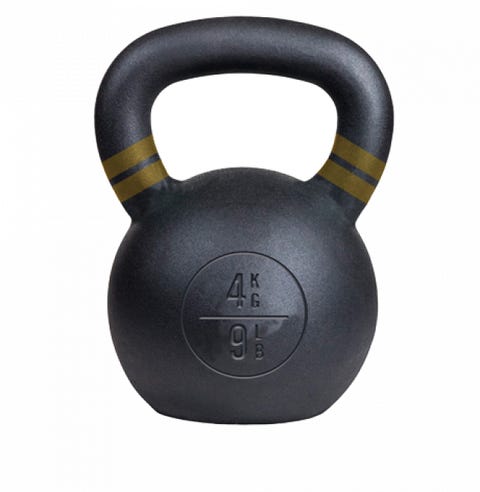 Everlast 9lb. Kettlebell
$25, everlast.com
BUY
Kettlebells, like dumbbells, are great. Easy to use and made for repetitions, they keep you on track with your workout without hurting you—no spotters necessary. They're hard to mess up. I personally love these pick-up-and-go workouts, which you can do for 10 minutes or an hour, based on your free time. The kettlebell design lends itself to different moves than the dumbells, with many centered around the lower back. Since I'm working from my living room with everything that's going on, the best thing this bell did for me was crack the ever-loving shit out of my spine after a six-hour couch session.Fitness Video Games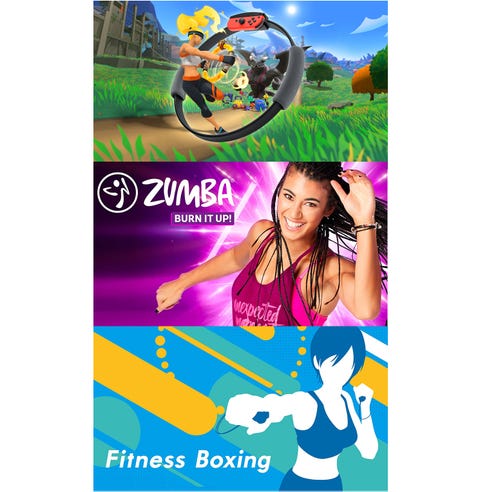 Ring Fit Adventure
$80, bestbuy.com
BUY
Zumba Burn It Up!
$40, amazon.com
BUY
Fitness Boxing
$50, amazon.com
BUY
Long gone are the days of Wii Fit, but gaming can still give you a hefty, Apple Watch-worthy workout. Specifically, the Nintendo Switch has some amazing titles that utilize its phenomenal infrared sensors and motion controls. Ring Fit Adventure, Zumba Burn It Up!, and Fitness Boxing all give you a shockingly in-depth workout, given the platform. If you own a Switch, the only one at the moment that may be a little challenging to buy is Ring Fit, which is hitting a mass shortage due to the pandemic, but rest assured the other two, which can be purchased digitally, will kick your ass just the right amount. Fitness Boxing is kind of like DDR but with punching—you work combos out to modern songs (I always pick "Video Killed the Radio Star"), while the motion sensors help to correct your posture. As for Zumba Burn It Up!, I was genuinely not prepared for how much the game made me break into a sweat. Zumba gets a bad rap, but this is some P90X stuff, with the bonus of being more interactive. Needless to say, one of these digital teachers can help you keep a regimen going.https://tpc.googlesyndication.com/safeframe/1-0-37/html/container.htmlResistance Bands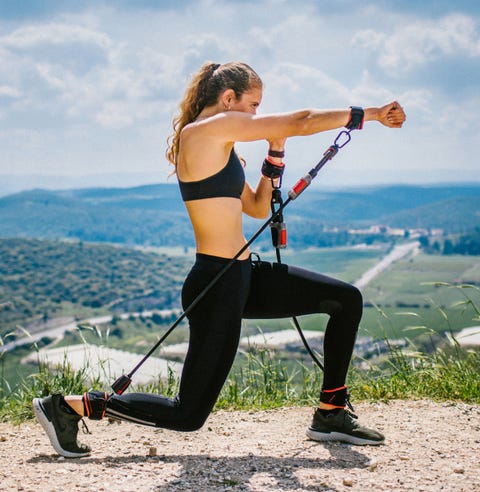 Hyfit Gear 1 Resistance Bands
$249, hyfitgear.com
BUY
Resistance training seems to be the new hip thing, and for good reason too, because the bands are portable and storable. The Hyfit resistance bands do one thing better than the rest: actually train you. They're equipped with tracking technology that pairs with an app filled with workouts. One of the most challenging things about home workouts is the learning curve, but with this app you'll be guided through everything you need so you don't wind up tangled in rubber bands like a looney toon. The training videos and app UI made this an unparalleled experience for me, not only helping me use resistance bands but teaching me an easy routine that I will take with me when we're allowed to travel again. This is hands-down the best workout on this list if space at your home is an issue. And while I fully recommend these Hyfit bands, if you can't swing it, there are a lot of options out there for cheaper bands and online tutorials, so don't be afraid to move in a more DIY direction.Wrist and Ankle Weights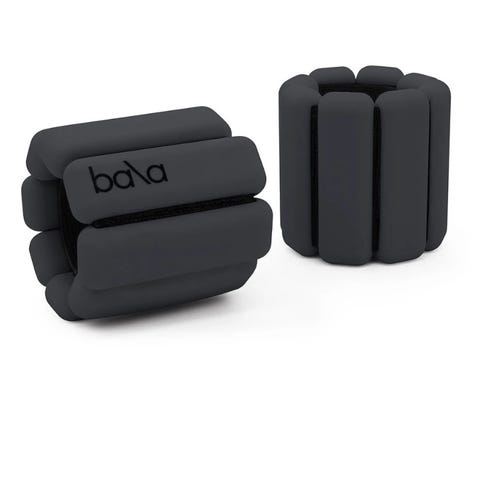 Bala Bangle Weights
$49, urbanoutfitters.com
BUY
Slide these on your wrists to make everything a workout. Whether I'm meditating, resistance training, or simply cleaning my home, wearing these 1lb. or 2lb. weights adds a little extra burn. It'll give you an efficient way to move around the house without actually doing a full workout routine, and an even better way to make a workout routine more effective, especially if you're sticking to mostly yoga and bodyweight exercises. Bala is simple, no learning curve at all—you just strap the bangles on and do your thing.https://tpc.googlesyndication.com/safeframe/1-0-37/html/container.htmlA Weighted Vest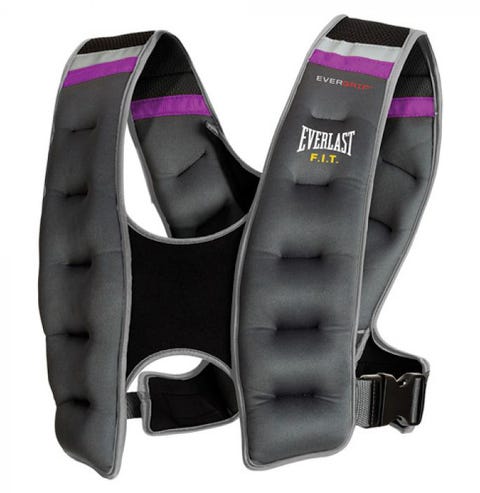 Everlast Evergrip Weighted Vest
$90, everlast.com
BUY
Like the Bala bangles, but heavier and for more than your limbs, a weighted vest adds burn to everything you do. Wearing it can really get a simple bodyweight workout to feel like your full lifting round. The Everlast vest is designed for folks who want to live at the gym and isn't as easy an addition as the Bala wrist straps. But it's great for those who would normally be spending hours in the weight room.A Boxing Membership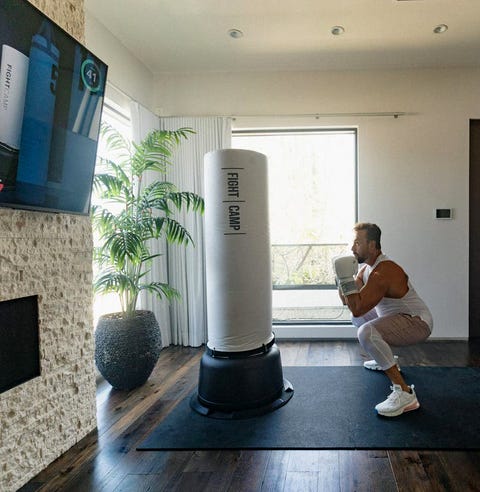 Fight Camp Gear + Membership
From $37/month, joinfightcamp.com
BUY
Things are hot garbage right now. I'm pissed, you're pissed, we're all pissed. Few things are more therapeutic than punching the hell out of something. Fight Camp is pricey, no doubt, but totally worth it. It's an industrial-grade punching bag, with supplemental video materials and smart features to help you on your boxing journey through cardio and strength training. I found myself drawn to this workout the most. It's kind of addicting, like a game.
Fight Camp is expensive, but so are boxing classes, so if you've been signing up you may want to take a look at this home boxing instructor instead, which'll serve you beyond the restricted workout era we're currently stuck in. Fight Camp also offers a version with motion trackers that let you shadow box for a lot cheaper. To be honest, shadow boxing is not quite as satisfying, but it's still an effective workout.Boxing Gloves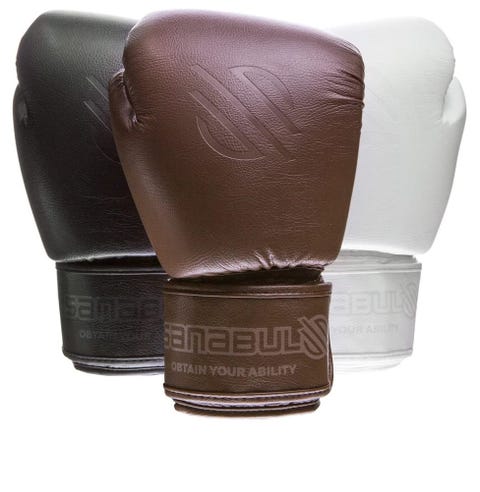 Sanabul Striking Gloves
$50, sanabulsports.com
BUY
Workout fashion is a whole new world. With my newfound boxing love, I wanted some cool gloves that were also comfortable. Sanabul has a ton of striking equipment, from MMA gloves to boxing gloves, and they're all gorgeous (and all animal-free). The designs include bright translucents and retro stylings, and even some Star Wars collaborations. My personal favorite is the brown battle-forged glove that you see here, because it made me feel like I was stepping out of Rocky. Listen, even if you don't box, there are few things as fun as running around your apartment acting like an '80s boxing star.https://tpc.googlesyndication.com/safeframe/1-0-37/html/container.htmlA Bike Subscription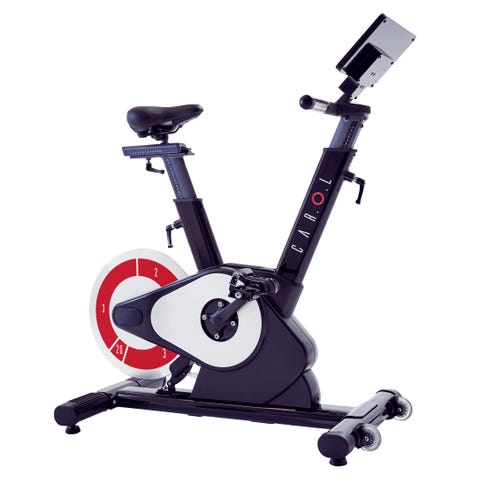 CAR.O.L Exercise Bike
$2,995 + $12/month, carolfitai.com
BUY
CAR.O.L is a high-intensity training workout bike that kicks my ass every day. I was skeptical of the whole HIIT promise to lower my daily workout time, but those qualms are long gone. This bike uses short sprints and cool-downs to make your workout quick, and it even has a 10-minute option that helps you avoid sweating. It's not easy by any means; the number of f-bombs I've dropped using this bike is unparalleled. I switch between the fat burning 10-minute and 20-minutes cycles, and both make me feel like I've sprinted three miles, even though I'm not drenched in sweat. The weight loss aspect has worked for me, and the fast boot-up and minimal time commitment make it a very easy morning or evening ritual to keep up with. The bike also features a normal mode, where you can use it like any other exercise bike. Now, CAR.O.L is a financial commitment and may not be in the cards for everyone, but if you've been looking for a different kind of machine, it is a wild addition to a home gym.Cameron SherrillCameron Sherrill is a designer and writer for Esquire.com, where he covers technology and video games.