Popular mechanics
The Best Memorial Day Sales on Tools, Tech, Outdoor Gear, and More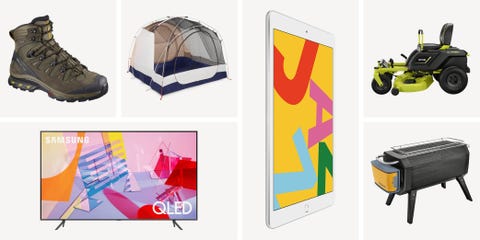 STAFF
Because you probably aren't traveling this year for Memorial Day, the long weekend is a great time to do some home improvement inside the house and out. While not all stores may be open as usual during the pandemic, Memorial Day sales are still thriving this week online. Whether you're looking for tech, appliances, or outdoor equipment for home projects now, or looking for deals on outdoor and travel gear to use in the future, we compiled all of the sales you should be aware of, so you can shop safely from your home.
Home Improvement
Home Depot
Save on select tools and outdoor power equipment, as well as patio furniture and decor, plants and flower, and more at Home Depot this week.
Lowes
You can snag up to 40 percent off appliances, 30 percent off patio and outdoor decor, 20 percent off outdoor power equipment, 30 percent off other tools, and more at Lowes through Memorial Day weekend.
Wayfair
Wayfair has some seriously impressive deals with up to 70 percent off on bedding, patio furniture, lawn and garden tools, appliances, and more home decor.
Sleep
Casper
Casper is hosting a site-wide sale through June 1, so you can get 10 percent off any Casper mattress. We tested and recommend the popular Original and new Wave Hybrid.
Zoey Sleep
Use the code CLASSICZOEY20 to get 20 percent off Zoey Sleep's adjustable, shredded–memory foam pillows.
Avocado Mattress
Save $200 on every Avocado mattress with the code WEHONOR200. If you're an educator, doctor, nurse, military, or law enforcement, you can save an additional $50 through June 1.
Tempur-Pedic
Save up to $300 on a new Tempur-Pedic mattress and/or $200 on select power bases, plus 20 percent on any mattress topper with a free pillow bundle.
Parachute
Take 20 percent off just about everything at Parachute's site, including bedding, mattresses, and other home decor.
Leesa
Score up to $400 off a new Leesa mattress for Memorial Day, including $100 off the Studio mattress, $200 off the Leesa Original, $300 off the Leesa Hybrid, and $400 off the Lessa Legend.
Our Favorite Home Memorial Day Deals
Greenworks Electric Pressure WasherGREENWORKSlowes.com$159.00SHOP NOW
Originally $23942 in. 75 Ah Battery Zero Turn MowerRYOBIhomedepot.com$3,399.00SHOP NOW
Originally $4,000TEMPUR-LUXE breeze Queen Memory FoamTEMPUR-PEDICtempurpedic.com$4,399.00SHOP NOW
Originally $4,700Wave Hybrid MattressCASPERcasper.com$1,271.00SHOP NOW
Originally $2,595
Outdoors
REI
REI is hosting its 82nd Anniversary Sale through Memorial Day, so you can get 30 percent off tons of outdoor gear and apparel. Co-op members can also use the coupon code ANNV20 to save 20 percent on one full-priced item and an extra 20 percent on one REI Outlet item.RELATED STORY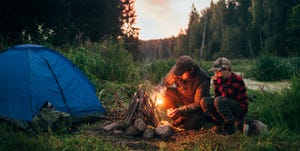 Save Now and Explore Later at This REI Sale
Backcountry
Backcountry's Memorial Day sale features deals up to 50 percent off on outdoor gear, including 40 percent off Arc'teryx, 30 percent off the North Face, 40 percent off Marmot, and more brands.
Moosejaw
Moosejaw's Summer Sale offers 20 percent off any full-priced item with the code SUNSCREEN, as well as 30 percent off even more outdoor gear.
BioLite
Save 20 percent at BioLite's site on outdoor lighting, camp stoves, and fire pits, including over $60 off the Editors' Choice-winning BioLite FirePit.
Osprey
This Summer Sale is providing 25 percent off Osprey bags and backpacks, and up to 40 percent off of gear from last season.
Marmot
Marmot's site-wide sale through Memorial Day gives 25 percent off tons of outdoor apparel and gear through March 27, plus up to 60 percent off last season's products.
Huckberry
Save up to 30 percent on summer men's apparel at Huckberry now through the weekend.
L.L. Bean
Take 15 percent off your order at L.L.Bean with the code SUNNY15.
Our Favorite Outdoor Memorial Day Deals
BioLite FirePitBIOLITErei.com$187.39SHOP NOW
Originally $250Tempest 20 BackpackOSPREYosprey.com$81.95SHOP NOW
Originally $120Kingdom 4 TentREI CO-OPrei.com$300.29SHOP NOW
Originally $429Quest 4D 3 GTX Hiking BootsSALOMONrei.com$160.99SHOP NOW
Originally $230ADVERTISEMENT – CONTINUE READING BELOW
Other Retailers
Best Buy
Major appliances and electronics are up to 40 percent off at Best Buy through Monday, so if you've been waiting to upgrade your laptop, TV, or even refrigerator, now's a great time to buy.
Walmart
Walmart has just about anything you could need for the summer on sale—from patio furniture and mattresses to electronics like Apple products and Samsung smart TVs.
Target
Save up to 25 percent at Target while decorating your home and patio.
eBay
Shop for any new, used, and certified refurbished products you could want from eBay.
Amazon
While Amazon may not have a specific page of deals just for Memorial Day, you can always find great discounts on its page of Today's Deals, including products like home electronics, tools and outdoor equipment, tech and gaming, and more.