Vogue Business
The Vogue Business NFT Tracker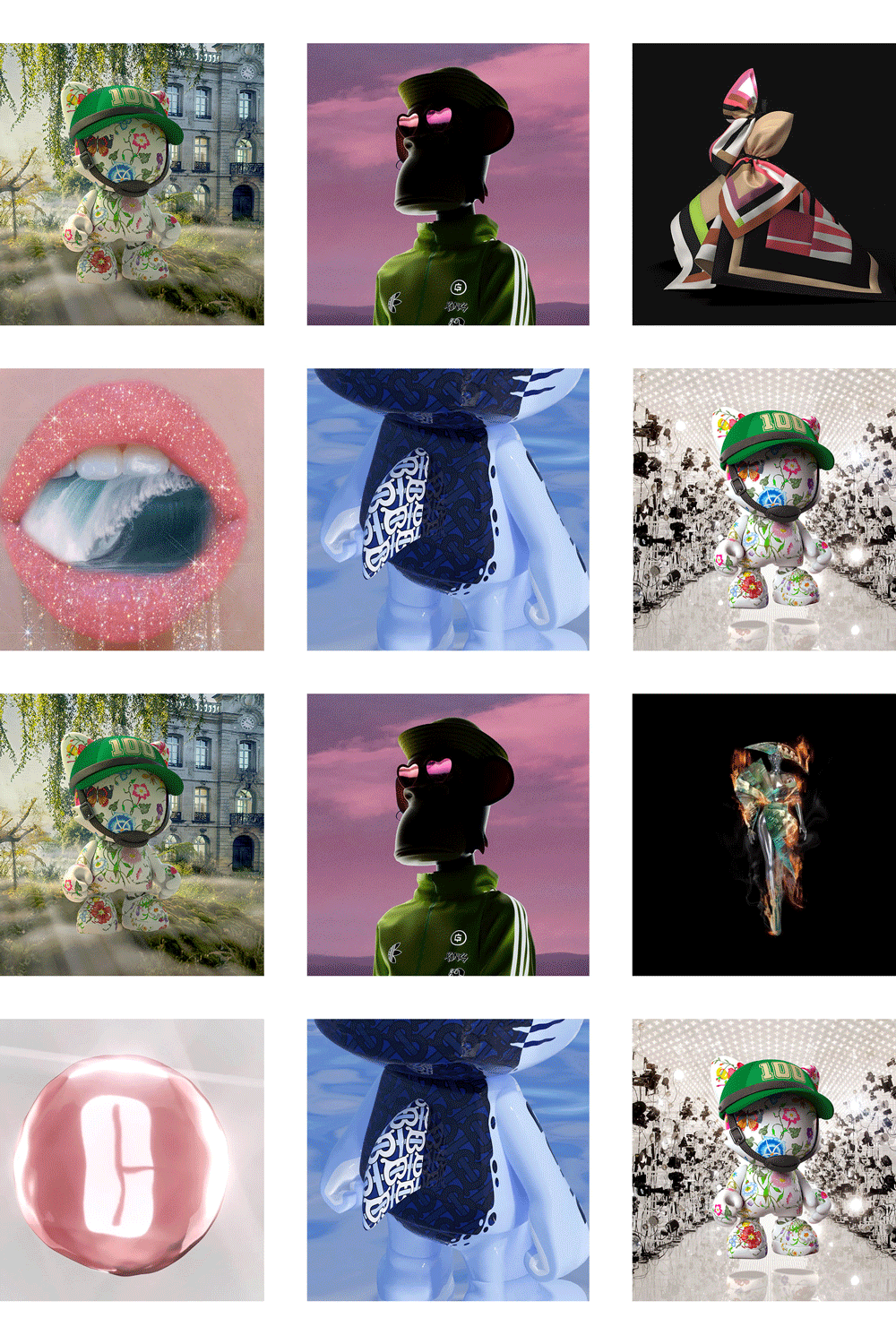 NFTs, or non-fungible tokens, give digital items a unique digital identity, assigned via blockchain. This means digital items take on properties once relegated to physical goods, such as scarcity and unique ownership. The first recorded sale of a fashion NFT was the iridescent dress created by The Fabricant and sold for the equivalent of $9,500 in May 2019. The first luxury brand entrant was Gucci's Aria film, auctioned for $25,000 in May 2021.
Non-fungible token / nän ˈfənjəbəl ˈtōkən / noun
CRYPTOGRAPHIC ASSETS ON BLOCKCHAIN WITH UNIQUE IDENTIFICATION CODES AND METADATA THAT DISTINGUISH THEM FROM EACH OTHER
Since then, a growing number of brands have introduced a wide variety of NFT projects, including Louis Vuitton, Burberry, Nars, Levi's, Clinique, Dolce & Gabbana, Gap and Adidas. Balmain has released at least four NFT projects and counting. Data collected for the Vogue Business Index shows that 17 per cent of brands in the Index had worked with NFTs as of Winter 2021. Already, strategies have matured from art projects and digital collectibles to tokens that grant special perks through elaborate partnerships and structures. "It's going to take time to find the right utility for NFTs, but brands need to start now," Cathy Hackl, CEO of the Futures Intelligence Group, recently told Vogue Business.
To keep tabs on fashion NFTs, Vogue Business has built the NFT Tracker, a running list of notable NFT launches from luxury, fashion and apparel brands that will be updated weekly.
Newest launches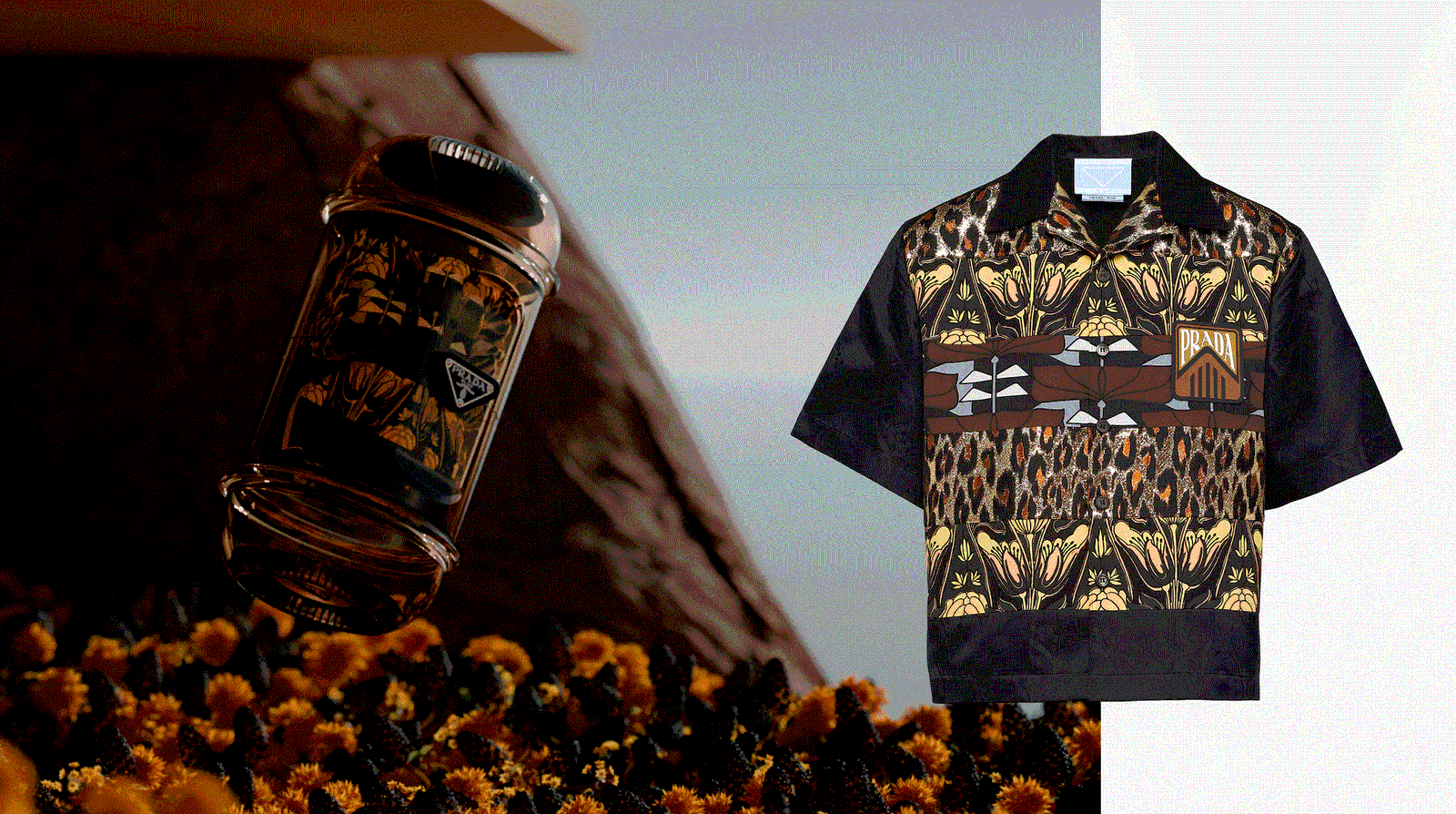 Prada: After an immediate sell-out of its first digital NFT twin Timecapsule collection, Prada's July Timecapsule will have 50 gender-neutral shirts, each made from fabrics from the Prada archives and coming with an NFT.
All announcements
Lance V. Moore: San Francisco based mask artist has released a physical and digital version of masks by Moore (created with digital artist Vini Naso) and worn by Lady Gaga and Grimes. The NFTs will be auctioned as part of the "Masks of the Immaterial" collection, on digital art platform Dissrup.
Rebecca Minkoff: US brand Rebecca MInkoff will release two NFT drops with fashion NFT project Mavion.world. The first in July is 55 NFTs; five unlock benefits, including physical accessories and fashion week tickets.
American Eagle: American Eagle has partnered with NFT collections Starcatchers, Little Lemon Friends, The Littles and WonderPals on a limited collection of hoodies and shirts showing the NFT art.
Ai Tominaga: Digital twin NFT of supermodel Ai Tominaga, which was created with art company Startbahn and advertising company CyberAgent, will be sold on OpenSea this summer. The model wears LVMH Prizev finalist Tomo Koizumi.
Salvatore Ferragamo: Salvatore Ferragamo's new Soho store includes an immersive booth that lets people customise designs from artist Shxpr that it will mint as free NFTs on the Ethereum blockchain via Opensea, up to 256 to start.
Gucci: Gucci invited 29 artists to create Gucci-inspired works to auction on Superrare; it also joined the Superrare DAO with a $25,000 investment.
Old Navy: The Gap Inc-owned company Old Navy will release 1,994 NFTs of mascot Magic the Dog wearing a flag T-shirt on 29 June. The NFTs will be sold for $0.94 (aside from one one-of-one auction), which also gives a physical T-shirt in-store and online.
Diesel: Italian brand, Diesel released up to 5,000 digital versions of the Prototype 3D sneaker created with Neuno on 14 June. Free versions were given to neuCard holders, with access to physical and virtual experiences.
Ambush: Three phygital "multiverse" sneakers called 100S made with recyclable materials will be available from 20 June. The NFT will be raffled at Stadium Goods Soho and in Ambush's Silver Fctry metaverse.
YSL: L'Oréal Group's Yves Saint Laurent Beauté has partnered with Arianee and created a token-gated webpage for its Web3 projects, starting with 10,000 YSL Beauty Golden Blocks that will give perks including a premiere launch and access to future drops.
Ahluwalia: 40 out of 45 digital African-inspired tracksuits for London Fashion Week will be sold via NFT platform Brand New Vision for ETH 0.25 (around $300), and come with a Decentraland wearable. British designer Priya Ahluwalia says 40 per cent of revenue going to the Black Cultural Archives.
Gap: Three levels of digital artworks by artist Demit Omphroy (from TEZ 2 to TEZ 50, or around $3-$75) will be sold on Gap's website, which also supports fiat. The one-of-one auction (comes with a painted Gap denim jacket) and digital Gap dog hoodies in play-to-earn dog NFT game Dogamì, will be promoted on Gap Threads Discord server and is available from 7 June.
The Clear Cut: Diamond ring customers can pay an extra $500 to buy an NFT to digitise and authenticate the diamond's GIA report; insurance document; sentimental photos and videos associated with the process; as well as repairs and resizing details.
Rtfkt: Digital fashion startup Rtfkt and luxury fragrance brand Byredo have partnered on a perfume for Web3. The collaboration includes a digital "aura" and the ability for collectors to customise and buy physical fragrances by merging NFTs.
Fancurve: From 7 June, limited digital wearable fan jerseys from the blockchain-enabled digital fashion platform and La Liga football club Real Betis Balompié will launch for €40, via www.fancurve.com. Metaverse wearability is planned.
Coin Club: The planned private London members club, whose lifetime membership is sold as NFTs. The digital goods starts with 111 Fat Cats for 11 ETH each and is available from 30 June.
Prada: NFTs tied to its limited-edition Timecapsule product drops (on the first Thursday of every month) will be available for 24 hours. On 2 June, a gender-neutral shirt designed in collaboration with artist Cassius Hirst comes with a free NFT, up to 100, with the price yet to be announced. Anyone who previously bought Timecapsule pieces will be gifted NFTs, giving access to perks that will be revealed on a new Discord server "Prada Crypted".
Nyx Professional Makeup: The L'Oréal-owned brand partnered with People of Crypto Lab on a collection of 8,430 non-binary avatar NFTs and a Pride event on The Sandbox starting 24 June. Owners of the avatars can customise their gender identity and sexual orientation, and avatars will wear makeup inspired by Nyx products.
Frederique Constant: The luxury watchmaker is turning the best-selling Classics Worldtimer Manufacture watch into 888 generative NFTs for 0.0888 to 0.123 ETH (depending on Exclusible membership) starting 28 May.
The Fabricant: The Fabricant and World of Women created a 27-piece digital fashion collection inspired by WoW characters, sold via invitation-only NFT co-creation platform The Fabricant Studio. Studio users, WoW NFT holders and select communities can customise pieces with digital fabrics and mint them as NFTs, starting in June.
Gmoney: The Web3 influencer and investor's "Admit One" free mint on 25 May was open to "curated parties" and POAP holders for four days, granting access to his forthcoming "universe of IP" with an aim to be hype-free, without a roadmap, to gauge collector loyalty.
Aglet: Premiere metaverse sneaker game, Aglet, will release 10,000 Aglet One "OG" in-game sneaker NFTs for 189 Gold Aglet, followed by 300 physical Aglet One sneakers for preorder for $250, this month. The platform says physical sneakers will come with an in-game Aglet One "IRL NFT."
Nike x Rtfkt: From 25 May people who own a Space Drip NFT from Rtfkt can "forge" 19 different designs of physical Nike AF-1 sneakers for 0.333 ETH, approximately $675.
Getty Images: British-American visual media company will release a portfolio of NFT products and collections derived from a library of more than 465 million images, some of which will be available to the public for the first time. The NFTs will be available via a marketplace on Candy Digital and minted on the Palm blockchain.
Boohoo: Fast fashion retailer Boohoo has teamed up with four female NFT artists to create an "affordable and inclusive" collection of 30,000 avatars with 230 unique characteristics, including Boohoo apparel. Owners get access to airdrops, a Discord server, events and prizes. The collection was available to presale on 15 May.
Mango: Five NFT artworks featuring Mango clothing will launch later this month, and will be displayed in its new New York store and on Opensea (not for sale). More Decentraland NFT wearables and a wearable POAP for opening party attendees will also be available.
Balmain: French luxury fashion house entered a long-term partnership with NFT marketplace Mintnft to launch its single, dynamic Non-Fungible Thread, which evolves over time, combines the physical and digital, and includes special perks.
Cristóbal Balenciaga: "Cristóbal Balenciaga: To the Moon" NFT collection, is created by the brand's former artistic director Lorenzo Riva and inspired by 8,000 drawings by the late designer. The NFT collection is available on Crypto.com NFT from July. Select owners can receive Balenciaga items, designer gift cards and physical drawings.
Rolex 2018 GMT-Master II Pepsi: Fractions linked to the luxury timepiece, valued at 33,000 USDC (stable coin) total, will be sold as NFTs at 120 USDC each via startup Koia. The platform stores physical valuables on behalf of users to allow investment-minded co-ownership.
Ivy Boys: South Korean illustrator Aaron Chang and creative studio BBRC Studios have teamed up to release 7,777 unique NFT avatars inspired by American Ivy League style. Owners get IP rights, private membership, and merch collections. Various tiers at 0.1 ETH and 0.12 ETH, available from 9 May.
Flower Girls: The fashionable Flower Girls NFT collection issued POAPs for attendees of the Mary J Blige and Pepsi Strength of a Woman festival on 7 May.
Rares: The sneaker collection platform's Hype Drop L Club invites people who lost out on lotteries on Nike's Snkrs app to submit screenshots and pay $5 or $60 for an NFT, depending on rarity (built on Flow). Future perks are planned.
Stepn: Move-to-earn running app Stepn and sneaker brand Asics released a limited edition NFT sneaker mystery box collection, launched on the Binance NFT marketplace; people purchase an NFT and move outdoors to earn tokens.
Nimany Club: As part of its launch on 28 April, Nimany Club has unveiled a lottery of 1,810 NFT digital watch variations in various rarities. Collectors can hold NFTs, bundle and burn them for a digital upgrade, or burn for a physical watch.
Renowned LA: Based on a time-travelling "Auracle" superhero, this NFT release and streetwear collaboration includes 5,555 digital collectibles for 0.11 ETH. Customers who purchase select characters are able to redeem physical clothing, and will launch later next month.
Terminal 27 X Mowalola: A collection of 1,000 NFTs from LA retailer Terminal 27 and fashion label Mowalola includes anime-styled robots and motorcycles, which are minted on Terminal27.com. The digital goods comes in five styles in rarities from 50 to 600. NFT-gated experiences are expected to launch later this spring.
Susan Alexandra: The accessories brand made free wearable NFT shoes, bags and earrings for Absolut.Land in Decentraland, created by the vodka brand for Coachella, unlocked via engagement. QR codes also unlock filters for digital try-on.
Cult & Rain: 999 3D animated NFTs available from 27 April tied to physical varsity jackets (valued at $1,800) via CultandRain.com. Four designs in four colourways include a "community" jacket with patches from CryptoPunk #465, The Heart Project and WonderPals. Prices tba.
Matte.World: A membership club from creative agency Matte (clients include Prada, Cartier, YSL). Its NFT projects include 333 Black Cards (an all-access lifetime pass for 2 ETH) and ongoing, collectible Black Badges (treated as Web3 tickets to live streams, gifts and more, for 0.05 ETH).
Louis Vuitton: Louis Vuitton has added new quests and new NFT rewards to its standalone game app, Louis: The Game. Players who reach a certain threshold will have the chance to qualify for an NFT raffle, running until 4 August, that will distribute a total of 10 new NFTs that feature the game's character, Vivienne, who functions as an avatar on social networks, similar to an LV PFP.
Rodman's Barbershop: Former NBA champion and colourful personality Dennis Rodman has released a collection of more than 5,000 NFTs with hairstyles mimicking Rodman's looks. The drop is available on Opensea.io for approximately $175 and was created with NFT Studio Metacurio.
Diverge: The "metaverse fashion brand's" first NFTs aim to be "it bags of the metaverse" with 40 wearable bags and backpack designs. The NFTs are available for 0.15 ETHs, sold via DressX, and give access to airdrops, future drops, wearables, skins and cosmetic items.
501 Alchemist: Sneaker designer Tuan Le and studio Maverick Create have teamed up to release wearable metaverse sneakers, available on Decentraland and Sandbox. The drop, which takes place on Nifty Gateway on 13 April, will happen in three tiers: $390, $1,950 and auction prices soon to be announced. Half of royalties go to Humanium Metal, which addresses gun violence.
Gucci Ghost: Artist Trevor Andrew, also known as the Gucci Ghost, will retire the Gucci Ghost and translate all creations, including website, Instagram account and art-filled Brooklyn studio, into digital replicas. The creations will be auctioned as NFTs on Makersplace.
Paco Rabanne: Fashion house Paco Rabanne is launching NFTs in collaboration with Selfridges in late April and plans to use the profits to finance additions to the house's archive. Prices for the 56 NFT dresses will start at £600, centred on 12 conceptual, opulent show pieces from early Paco Rabanne. The NFTs will feature in a specially designed Selfridges.com experience.
Vogue Ukraine and Vogue Singapore: The sister titles created a "Fashion for Peace" collaboration with six artists to sell 50 editions of various designs at 0.5 Eth each on Opensea starting 15 March. Proceeds from primary and secondary sales are donated to Save The Children Ukraine.
Rebecca Minkoff: As a follow-up to an earlier collection for New York Fashion Week in September, the designer created six digital-only pieces via Dematerialised, €100 to €1250, in editions from 10 to 150, starting 18 March. NFTs include access to a branded experience and products in Roblox; the accessories are wearable in Snapchat and Instagram.
Neuno: The digital fashion marketplace's alpha launch includes 3,000 unique membership "neuCards" in different tiers that give pre-sale access to upcoming luxury and streetwear NFT drops and a gifted Diesel NFT, starting at 0.02 Eth.
Vogue Business:Issued 120 NFTs as a token of attendance to a Vogue Business event in Dubai, via the Arianee app and represented as a card-like 3D design. The NFT, once accessed and acquired via a QR code at the event, includes event photos and a month's free membership to Vogue Business.
Colette: The former Parisian boutique debuted a collection of 25 unique NFTs in collaboration with cyclopean avatar project Darcel Disappoints, 10 of which where auctioned on Opensea on 20 March for 48 hours, five reserved as giveaways for Dour Darcels token holders, nine raffled to Dour Darcels holders for 0.2 Eth and one will be reserved for Colette. Buyers will receive a custom Casetify phone cover with their name, token number and NFT as the artwork, along with a Dour Darcels hoodie.
Kesh: The multimedia artist created a hoodie that activates AR effects; to acquire, people buy one of 888 corresponding NFT artworks for 0.08 Eth.
Flex: Digital sneaker hub Flex has released a new AR NFT try-on app which launches with animated sneakers designed by artists Johwska, Finn Rush-Taylor and a collection by agency Monument. Consumers can purchase the digital goods on marketplace Rarible, then "flex" via the app.
Rave Review: The Stockholm-based upcycling brand will release 3,333 unique "Cryptopanties", minted on Solana. The main channel for engagement is Instagram. NFTs will give access to future digital and physical drops, and are available to the public from next month.
XR Couture: International digital fashion collection platform, XR Couture, has released ten editions of six digital outfits starting at .101 ETH ($260). The digital goods come with Decentraland wearable for Metaverse Fashion Week, as well as a virtual fitting and AR filter.
Alice + Olivia: Animated avatar of the "Stace Face" 20th anniversary rainbow print will be given to 150 people who buy a corresponding blouse ($375), and will give priority access to Randi Zuckerberg's NFT course.
Champion: Champion Athleticwear and tech company Tafi have teamed up to gift 888 Non-Fungible People PFP NFT owners with Champion apparel and accessory NFTs, enabling owners the option to "upgrade" their avatars to be wearing Champion.
Louis Moinet: Louis Moinet, watchmaker and inventor of the chronograph, has released 1,000 unique generative digital timepieces for ETH 0.2 ($5,500), sold on NFT platform Exclusible. Those who purchase an NFT will receive "digital unlockables" including AR wearability as well as a chance to win one of two physical $19,500 watches.
Virtue Worldwide: Vice creative agency Virtue Worldwide has teamed up with Web 3.0 marketplace The Dematerialised to release three non-gendered digital fashion items. The pieces, which dropped on Monday, incorporate insights from a recent digital fashion study, shared exclusively with Vogue Business. The NFTs are free and available in limited quantities.
Blvck Genesis: French designer and founder of Blvck Paris Julian O'hayon has created 9,999 randomly generated Blvck avatars. Purchasing an NFT will give customers access to the exclusive Blvck Paris collector's community as well as events, fashion collaborations and rewards. The avatars are sold via Openaea.
Bad Binch Tongtong: Digital fashion lab Xtended Identity and New-York based fashion designer Terrence Zhou have teamed up to release three designs — a pink heart ball dress and two mermaid tails. The pieces will drop on 3 March and will debut exclusively on The Dematerialised during Paris Fashion Week.
François Berthoud: Swiss illustrator François Berthoud has released four NFTs — two animated limited editions and two single editions — which will be sold on Makers Place. The original physical illustrated works, including a 2018 Bulgari necklace, 2019 Bulgari Snake and two Serpent animations come with the first of each NFT sold. Berthoud will also raffle a 1997 Dior mask NFT on 28 February.
Modern Mirror: New York-based fashion innovation company, Modern Mirror debuts into the metaverse with a one-of-one video of a 3D model of "bionic pop artist" Viktoria Modesta wearing digital fashion. The garments are designed by 3D fashion designer Sam Goodyear. Customers can use the digital garment throughout metaverse platforms, via Artano marketplace auction. The collections dropped on 21 February during London Fashion Week.
Weinsanto: Weinsanto launches its first phyigtal NFT powered by Spin, which the brand says is fully circular. The first NFTs sold along with physical pieces from designer Victor Weinsanto at Paris's Dover Street Little Market provide authenticity, provenance and life cycle details, accessed via clothing label QR code.
AZ Factory: Paying homage to the late Alber Elbaz, 45 fashion houses collaborated on the collection, Love Brings Joy. The five T-shirt styles ($310-$375) sold with an NFT of an Alber Elbaz drawing that give access to the AZ Factory membership programme. In order to claim ownership of the NFT, customers are required to scan the garment's NFC tag.
Altuzarra: Luxury women's ready-to-wear and accessories brand Altuzarra released NFTs of three coloured prints and books, which were tied to physical products given out at its New York Fashion Week show on Sunday. The NFTs, created using Polygon via the eco-friendly NFT marketplace Bubblehouse, are available in various rarities in yellow (150), blue (125) and red (25).
Markarian: Markarian, a luxury womenswear label founded in 2017, released a video of a box with pearls for guests attending the show on 14 February. By scanning the QR code, guests gain access to the NFT for free via Bubblehouse.
Eckhaus Latta: Eckhaus Latta is dropping a series of 10,000 unique NFTs including 10 looks; 10 seasons; and 10 rare "surprises". The NFTs will give access to Web 3.0 paradise Club Eckhaus Latta. The release date has not been confirmed.
Roksanda: Roksanda has teamed up with Institute of Digital Fashion (IODF) and Clearpay to release multiple version of a 3D gown sold on the fashion brands e-commerce site for £25 (500), £250 (250) and £5,000 (10). Each tier unlocks a new feature, including 3D animation and digital wearability.
Jonathan Simkhai: LA-based luxury designer Jonathan Simkhai is creating a number of NFT versions of his NYFW designs, which were presented via a virtual show in Second Life.
Pacsun: American retail clothing brand Pacsun collaborated with artist Sara Shakeel on a one-of-one NFT, which is being auctioned on Opensea. Shakeel has previously worked with Vogue, Nars and Mercedes.
Collab Bears: Former Ralph Lauren VP and creative director Audrey Schilt, who conceptualised the Polo Teddy Bear, is launching Collab Bears NFTs; owners can access designs created by yet-to-be-announced collaborators and get a chance to enter the Collab Bears brand DAO.
Ben Sherman: British menswear brand Ben Sherman launched 250 unique "Team GB Humanz" NFTs on 4 February in partnership with Tokns Commerce and Humanz. Available on TeamGBNFT.com for £300, the figures are wearing versions of Team GB's Beijing 2022 Olympic Winter Games ceremony looks. The NFTs accompany a physical limited edition Ben Sherman x Team GB collection.MOST POPULAR
Rkfkt: Rtfkt, which was acquired by Nike in December, released "loot pod" NFTs in partnership with NFT experience creator On Cyber on 5 February for owners of its CloneX avatar NFTs. They function as an extension of Space Pods, a display gallery for metaverse goods. The virtual sneaker maker is also auctioning a "Mnlth" (monolith) box, whose contents are yet to be revealed. Both the loot pods and Mnlth bear the Nike swoosh logo.
Hapebeasts: London design agency Digimental Studios revealed 8,192 NFTs of 3D animated apes wearing streetwear on 4 February to their owners. The NFTs, which were minted on 19 January, sold for $600 each on Open Sea. Some were later resold for more than $80,000. The drop corresponds with a forthcoming metaverse concept store, Hapewalk, that provides a space for collaborations and brand extensions.
Ambush: Ambush is dropping 2,022 NFTs of its iconic Pow! jewellery design on 14 February. The NFTs function as membership cards; owners will have exclusive access to special perks including products, events, limited edition collaborations and experiences. The brand, which launched in 2008 with Pow!, announced the NFT collection via its Discord server.
PacSun: American retail clothing brand Pacsun launched its second NFT collection, Pac Mall Rats. The collection initially offered three Pac Mall Rats to represent three retail locations, but will be expanded to 300 unique NFTs that correspond with all retail locations. The collection was auctioned on OpenSea until 7 February, with each NFT starting at $200 and accompanied by a physical garment with the selected Pac Mall Rat pictured.
Kenzo: To celebrate the Kenzo Boke Flower collection with new designer Nigo, Kenzo is giving away 100 NFTs that "unlock exclusive access" to each limited edition drop by Nigo. Consumers can register via the Kenzo website until 13 February. The winner will be announced on the LVMH brand's Discord server.
Valde Beauty: The lipstick brand is selling at least 134 NFTs for $200 to more than $2,500, on Bitski. Perks, depending on level, include a corresponding Decentraland wearable, a digital artwork and physical lipsticks. The project launched with a Decentraland party on 27 January.MOST POPULAR
Asprey: For its 240th anniversary, crown jeweler Asprey is partnering with automotive brand Bugatti on a one-of-one NFT sculpture of a Bugatti, created at Asprey's new digital studio. Bugatti and Asprey clients will be able to commission their own sculptures and NFTs to unlock content and features. February timing is yet to be announced.
The Fabricant: On 1 February, The Fabricant begins its invite-only opening of Season One of its design studio, which invited designers to submit raw materials for people to mix and match into their own digital fashion NFTs. Participants can mint, wear and trade their NFTs to earn FBRC tokens, which let them participate in future decision-making.
Adidas and Prada: Starting 24 January, Adidas and Prada crowd-sourced 3,000 consumer-submitted photographs, selected by raffle, to be minted into NFTs for free for the original creator to own and sell if they wished. All images were combined into a patchwork NFT to auction and display in Prada and Adidas stores.
StockX: Called Vault NFTs, a limited number of physical sneakers from StockX will be tied to NFTs, starting 18 January .This will enable people to buy and sell sneakers without ever holding the physical item.MOST POPULAR
Champion: Champion will partner with Daz3D's Non-Fungible People NFT series. Of the 8,888 people who who an NFP NFT, 888 of those will get free NFT tokens that they can choose to redeem for a digital Champion wearable for their NFP to wear. The timing, at press time, was yet to be determined.
Gucci: Gucci partnered with animated celebrities company Superplastic for "Supergucci", which includes a three-part drop of 10 unique NFTs that come with physical ceramic sculptures, via superplastic.co and Gucci Vault. The drop coincides with vintage pieces from Gucci Vault, and is launching 1 February.
The Gap: The Gap released four levels of limited-edition NFTs with artist Brandon Sines. Sold on Tezos, prices range from about $8.30 to $415 (plus an auction). A certain threshold gives access to buy a physical hoodie, from 13 to 24 January.
Satisfy: Running brand Satisfy released a series of 20 "bundles", each including a one-of-one vintage running tee, vintage Runner's World magazine and one-of-one NFT of a 3D logo in partnership with Ledger. The auction benefitted We Go Outside Too, from 14 to 16 January.
Balmain and Barbie: Balmain and Barbie partnered on a series of NFTs made up of three Barbie avatars wearing digital versions of the Barbie and Balmain collaboration collection from 12 to 14 January. The highest bidders (which reached more than $21,000) also got a physical set of Barbie clothes.
To become a Vogue Business Member and receive the Technology Edit newsletter, click here.